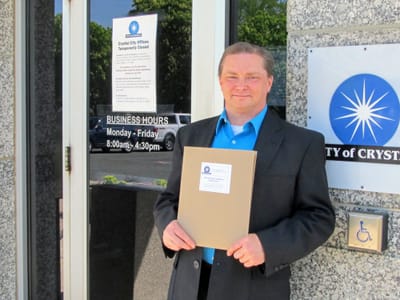 Steve grew up in Pierre, SD. Pierre is the second smallest state capital city in the country, and being such a small town, state government and government in general is very front and center. The primary school system consequently was very strong in its civic teachings, and field trips to government offices were an easy inclusion to curriculum. This early introduction and constant exposure to state government while growing up has made an impact on Steve's understanding and knowledge of how government works.
In Crystal, Steve has served on the City of Crystal's employee review board and the Community Outreach task force. He was heavily involved in the current design of Crystal's flag and was a key designer of the current City of Crystal logo to represent the 14 neighborhoods that make up the City of Crystal.
Steve's career includes managerial roles in automotive, retail, and customer service. Steve is a small business owner. In 2017 he started Crystal Auto Spa where he did paintless dent repair, minor auto body work, and auto detailing out of his garage. In 2018, he purchased Newport Collision Center and moved his operations there, retaining the staff and strengthening the business.
Steve and his partner, Heather, moved to Crystal in 2013. Even though Steve now has a long commute, he has made ties with the community and couldn't see himself living anywhere else.